Just like Spennymoor, Gloucester are reliant on one man for their day-to-day existence. Eamonn McGurk is the major shareholder, co-chairman and recently celebrated 25 years on the Board. Without his paying off City's debts in 2002, they would have folded. Although not well known nationally, McGurk is a big name in the cathedral city. He employs 900 people across his business empire Keyway. The Tigers owner is a generous supporter of charities which resulted in his being awarded the Freedom of the City of London.
You could argue Gloucester City, if not a charity, are very needy. For 12 years now, they've been a cuckoo in other people's nests after their own ground was drowned in 2007. Somehow during that period, they secured promotion to Step 2 and grimly retained their status over the last 10 years. Survival for so long is a remarkable achievement. And yet, when staying up is your only objective and home games are played in a different county, there's an argument about what is the point of Gloucester City?
The answer is three-fold. City has an impressive history, dating back to 1883, which is well documented on the excellent Tiger Roar website. Back in the day, they were a respectable club who attracted decent opposition. I recall seeing Cyrille Regis score at City's previous ground when a famous First Division club sent their full first team squad for a friendly.
Secondly, somebody in Gloucester needs to offer an alternative to the Men with Odd-Shaped balls, cauliflower ears and broken noses who dominate the city.
And finally, the Tigers are going home at the backside of this season. Years of negotiation and argument are behind this move. The local authority initially gave outline permission over four years ago, after much pressure from locals. Hereford supporters were asked to write letters to support the campaign.
Curious then our away fixture wasn't scheduled for Easter to maximise income, rather than a Tuesday night in August. For their big Easter game, City will be hosting Brackley. Works in travelling terms but as we've previously noticed, Brackley have no turnstile appeal whatsoever. Just to emphasise, that isn't personal bias. Last season, 14 National League North clubs had a below-average attendance when the Northants club rolled up.
City certainly need the money. Their average gate last season was 342, the second lowest in Step 2. Their biggest attendance was the 720 who turned out for eventual Champions Torquay. City eventually finished 17th in National League South after another year of struggle. Their latest accounts show a club still struggling with a £130,000 debt. That's the equivalent of two years income through the turnstiles. Those figures throw up lots of questions about viability, costs of their new ground and it's hard to think beyond Eamonn McGurk as the answer. Perish the thought but what would City do if McGurk was run over by a bus?
As mentioned earlier, the Tigers reached Step 2 for the first time in 2009 and have hung on ever since. Our Division is not new to them as they played for 8 years in what was Conference North. As if to remind them of the distances involved, the Tigers are heading to Blyth on the opening day. I suspect they will travel on the day. Their local press lament that the Tigers have to travel 6,300 miles this season, 1,600 miles more than the South in 18-19. We sympathise – with our team coach leaving from Gloucester, that's near enough our mileage too.
Gloucester's latest manager (two per season is the recent norm) is Mike Cook, a PFA Coach for the rest of the week. He delivers UEFA B licence training to PFA members in the South -West. Steve Guinan is a work colleague.
Player links? Not so many now. All the players who moved directly from Hereford to Gloucester have all departed and none of our signings have any connections with the Tigers.
City of course recently signed Jennison Myrie-Williams and Marlon Jackson from Weston. To do so, the Tigers "threw everything including the kitchen sink" to get the deal done. Oh dear. In fairness, Jackson scored 10 times for WSM in just 14 games so has a recent impressive track record. Yet that is the most he's ever scored in one season, despite being 28. And he's also injury prone. Gloucester originally wanted Ben Whitehead from Cirencester, who has a remarkable scoring rate but Ben didn't want them, joining Weston instead. All becoming rather incestuous between the two clubs. City striker Jake Mawford lives in South Somerset, couldn't bear the thought of National League North so felt obliged to join Weston instead.
I'll just highlight a couple of names from the Gloucester squad. In goal is the rather well-built Tom King. He's 38 and was persuaded out of retirement in March as emergency cover. Although he hadn't trained for two years, he performed so well that he was offered a contract for the new season. By day, King is a painter and decorator so the Tigers may have "additional duties" in mind for their elderly custodian.
Also in the City ranks is Josh Thomas, Hereford born and bred. He was briefly with Hereford United's Academy. No relation to our Kieran Thomas or his sibling Luke who recently moved to Barnsley for £1.25 million.
18-year-old Noah Smerdon made 36 appearances last season for City. But no more as Exeter City signed him on a two-year pro. deal. The Tigers don't get a fee because he was released from a League clubs Academy a year back and they got the dosh instead.
Strange that despite being neighbours, we've hardly ever played Gloucester. I've seen WBA play the Tigers more times than I have Hereford. The only recent Bulls v Tigers fixture was a 2017 friendly at Evesham when our current management were then in the opposite dugout. That was the hardest friendly I can remember with both sides going all out in the later stages. Hereford were 2-1 up and so determined to keep the lead that the tackles flew in and eventually Preener was sent off. City scored a late equaliser, probably to the relief of both managers who feared some serious injuries. I expect another fierce battle on August 6. Gloucester don't score many goals with six goalless draws at home in 18-19 so we will have to go at them.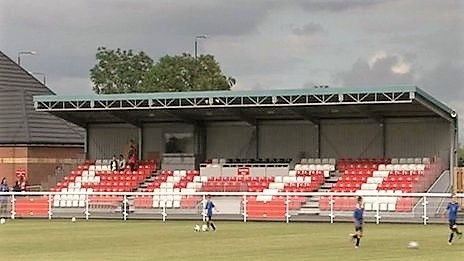 The Jubilee Stadium is familiar territory. There is ample parking all around the ground. Segregation and searching will be enforced, even though only senior supporters can remember competitive games between the clubs. Gloucester installed a 400-place open terrace behind one goal and an extra block of turnstiles which they intend to take to their new ground. The platform adds to the low covered terrace behind the opposite goal. A modern stand set back from one touchline completes the facilities. Admission is £13 adults, £8 for seniors with varying childrens' rates plus a £1 booking fee per ticket. Link to buy tickets https://www.tickettailor.com/events/gloucestercityafc/284904
Evesham have excellent clubhouse facilities though their beverages are not exciting. So a no alcohol ban is no great loss. There are no alternatives within walking distance.  Nearest pub is two miles on the inbound route. That's the Cider Mill on Pershore Road, owned by Punch Taverns.  Only one guest real ale, though the big beer garden is some compensation.   Otherwise, a pre or post-match refreshment stop in always-pleasant Pershore is the best bet. Several CAMRA choices on the main road.
Getting There:
By Car:  45 miles (WR11 2LS) Really easy! Follow B4084 through Pershore onto Evesham.  At traffic lights in Evesham with River Avon and Bridge on left, take right hand lane and turn right into Cheltenham Road signposted A46.  Continue through two sets of traffic lights before reaching roundabout.  Ground situated on right.
By Train:  Only possible for Shire folk if they leave early. Our Southern Exiles can catch the 23.01 home but will need a taxi to the station.
By Coach:  Luxury liner no less. 5pm departure at £10 per seat. Check Hereford Awaydays Facebook for availability.  Already booking second Luxury Liner.
https://www.talkingbull.org/gloucester-city-v-hereford-preview/