With the Hereford against Alfreton match being called off due to a waterlogged pitch the Bulls only Saturday afternoon match between now and the 16th of November is at Darlington next weekend.
Weather permitting the Quakers will have a back-to-back home games this week with Kidderminster Harriers due in the North-East on Wednesday, whilst Russell Slade has additional preparation time before the match at Blackwell Meadows.
Darlington FC
Two years ago, the County Durham side finished in the top 5 in National League North. They've finished strictly mid-table since and thus far changing the management hasn't massively improved their fortunes. Losing their most consistent player of recent years, wing back Luke Trotman, to injury for the whole season hasn't helped. Neither did the exit of their 3 most prolific goal scorers. Harvey Saunders turned full-time with Fleetwood while two others were unable to resist the lure of Edgar Street. The new manager did an Ian Long by raiding his old club Blyth for talent. In came Watson, Atkinson, Laing, Rivers, Holmes and Liddle.
Being supporter-owned, the Darlington Board shared some interesting insight into their latest choice of manager, Alun Armstrong. There were 71 strong applicants and as part of their efforts to reduce a weekly shopping list to a shortlist, they sought input from "several highly-respected supporters". Once Board and supporters reached a broad consensus, the shortlist was whittled down until the former Blyth manager was chosen. I accept their reality might not match the idyllic consultation the exercise implies but even so, superficially, involving supporters feels novel. And they can share the blame if the appointment is not a success.
Darlo have an interesting Pay Monthly Season ticket, spaced over 12 months. An adult pays £20 monthly and seniors £14. I really like that idea. That's how people pay most of their bills. The Quakers also offer 5 or 10 game blocks of tickets. With Herefordshire being a low wage county, wonder whether those ideas would appeal to our support.
Quaker management do rely heavily on their owners, ie supporters for a larger playing budget. Last season, fans raised £86,000 and beat that total during summer 2019 by amassing £102,000. That may explain their 24-man squad.
Their most senior player is striker Stephen Thompson who has scored 96 times during his 260 appearances for Darlo despite being only 5 foot 7. He's been with the new club since they started their Phoenix existence. Left back Terry Galbraith joined Darlo in 2012 so he's also a Quaker veteran. Stephen Thompson is among their leading goal scorers, not that Darlington score many. Currently the top marksman is new arrival Adam Campbell (24) with 170 games as a professional behind him with 6 goals. That experience includes Europa League plus English and Scottish Premier League. You do wonder how he ended up at part-time Darlo? Campbell currently has 6 goals to his name.
There is clearly a new rule in our Division that only players whose first name starts with A or J can score regularly. Of the top 16 scorers, 15 follow the rule with the sole exception being Glen Taylor od Spenny. Clearly, Hereford didn't get that memo.
One curiosity. Darlo have two forwards who are current Bermudan internationals in their squad – Justin Donowa and Osagi Bascombe, with 30 caps between them. Donowa also represented his country 6 times in either the triple jump or long jump events. Cue bad jokes about "he's for the high jump" after a poor performance.Their home record is standard mid-table. They've beaten Kettering, Southport, Boston and Blyth. Shared points with Gateshead and lost to Bradford and York. Their average gate is just under 1,600, slightly distorted upwards because they've already played all their nearest opponents except Spennymoor. On the road, they recently won at both Leamington and Tamworth in the FA Cup plus Alfreton in the League. As of October 19, they'd hit some form with 5 straight wins.
Don't mention the FA Cup. I think I might have mentioned it once but I think I got away with it.
Blackwell Meadows is the home of those jolly rugger types, Darlington RFC. The football club shares their facilities. For those who haven't visited, this out of town stadium well away from any city centre fleshpots.
Expect segregation here. There is a separate entrance in a nearly flat open terrace and access to one block of seats. Open terrace standing in November is not much fun up North. Based on last season, there is a strong feeling of isolation from the action.. and the whole world really. We do the same to the Quakers following at the Street but at least we invite them into our bars. On the day price is £14 adults, £10 concessions, Under 18s £5, cash or cashless. Tickets can be bought online before midnight on Friday, with fans able to save £1 on the price of tickets on match day. LINK Seats attract a £2 premium. Senior concessions start at a slightly random age of 63.
A more civilised experience may be to sample Hospitality, with a meal and the best view in the house from their upstairs terrace. Because you've shelled out, you are deemed worthy of trying alcohol. At £40 each, it's not for everybody but as an occasional treat, this provides such a rewarding and different perspective.
If you're a blue badge holder, I'd leave it in the glove compartment. You pay the same as everyone else and are directed to an area of the car park which is fine to enter the home turnstiles but completely the wrong end for the travelling support. You're also at the tail end of a very, very long queue to use the single-exit car park. Parking is the achilles heel when visiting Darlo. Cost is £5 and there are very few alternatives without a long walk. Parking is managed by an external company who are OTT with their stewarding and queuing for 15 minutes is commonplace.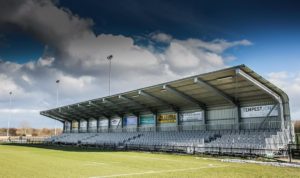 During our visit last season, we surprised everyone, not least ourselves, by taking a two-goal lead. Confidence was thin then due to no victories in 14 games which led to us defending deep and ultimately conceding twice to only take one point away. A certain Jordan Nicholson scored the equaliser. In the return match, our team went comparatively goal crazy, finding the net 4 times after being two goals behind. Even Lance Smith netted.
Darlington is a surprisingly large town, double the size of Hereford and can boast
seven Good Beer Guide listed pubs. With the ground out of town, I suspect few will bother to visit the centre. I'll just highlight a couple which the Radio Hereford team have personally visited, purely for research reasons of course.
Number Twenty 2 at 22 Coniscliffe Road has a mind boggling sixteen hand-pumps plus real cider and local vodkas and gin. This is a small, friendly hostelry and very popular.
The local Spoons is the Tanners Hall at 63-64 Skinnergate, DL3 7LL with its own entry in the Good Beer Guide boasting an impressive 12 handpumps.
Getting There:
By Road: 460 miles return (DL1 5NR) 4thlongest trip
Take the A1(M) to J57, exit onto A66(M), towards Darlington, continue straight onto A66. Take 2nd exit at roundabout onto A167, Blackwell Meadows is about 400yds on right.
By Train: Darlington is on the East Coast mainline and the train station is in the town, approximately 20 minutes' walk to the ground, south along A167, though buses are available. Do expect a round trip of 9 hours from the Shire, with only one change admittedly and a rather large bill. Straight run from London Kings Cross in 2.5 hours.
By Reg: Suspect there won't be much interest in this marathon winter trip but sometimes our support does surprise us. Visit Hereford Awaydays Facebook for latest info.
By Simon Wright.