Hereford next face the new league leaders King's Lynn Town in the FA Trophy 3rd Qualifying Round. Thankfully league points are not at stake and the Bulls goal difference will not be affected. However, the draw could hardly have been tougher. Somehow boss Russell Slade has to find a way out of the downward spiral of recent weeks. A spirited performance would be a start.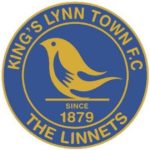 King's Lynn Town FC
My initial reaction to a Trophy game at Kings Lynn wasn't repeatable in polite company. I suspect we are not alone. Trophy day will resemble a round of League games, with 16 clubs in our Division playing other sides in National League North. Altrincham will be playing York for the third time this season but our draw is particularly unkind.
Positives are not easy to find. November 23 will be another very long trip to a venue where we turned out only 3 months ago. A venue where we are not terribly welcome and where we don't record positive results. One could be melodramatic and say "No Hereford side has won at Kings Lynn since 1971" while omitting the small details around frequency of visits. In fairness, few visitors leave with anything as Lynn are unbeaten at the Walks since October 2018.
Highlighting positives is largely akin to straw grabbing.
1. Lynn have no track record in the Trophy. The last two years they've gone out to lower League opposition immediately. Last season, they lost at home to Buxton, even though they fielded a full-strength side. The attendance was a pathetic 277. Admittedly, they haven't lost at home since. The Linnets last got past the First-Round proper in 2013 and their best-ever showing was the Fourth Round. Given their elevated League position and their small squad, I wonder whether they have any appetite for this competition.
2. Surely Herefords new signings means we won't get bullied this time? Admittedly, I expressed the same opinion in August when we were so shockingly second-best that our Chairman felt obliged to apologise to supporters afterwards. If you need a reminder, Lynn won 3-1 in a howling gale and a change of management followed. Since then, we've added Pollock and Dawson to our midfield. Easy to imagine Dawson describing graphically what's he's "done to bigger teams than Kings Lynn."
3. In pure mileage terms, there are 8 clubs further away in our League. Supporters actually doing the miles on those slow roads may find that fact difficult to believe.
4. Kings Lynn have to pay our coach travel at £3 per mile. I know our travelling support will partly cover that but, even so, pleasing that the Linnets have to give us money for a change. We're not quite far enough away to claim an overnighter at Lynn's expense. That requires 5.5 hours of travel one way from the visitors' home ground.
Kings Lynn have really surprised me and probably surprised themselves with their League performances this season. At home, they won their five League games in a row, followed by draws v Gloucester, Chester and Altrincham. Most recently, they thumped Leamington 5-2 with Marriott inevitably scoring again. The Linnets are unbeaten at home in League, FA Cup and even friendlies. Their last home League defeat was by Stourbridge way back in September 2018. Attendances have increased by 60%, that's primarily down to the 1,600 attendance for Chester.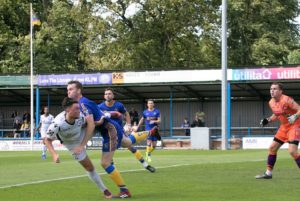 They've been a team of scrappers for years which obviously helps as does having 6 long-term local squad members. Local as in born, bred and working in Lynn or nearby. Also, their main goal scorers already have experience in Step Two and above. They've just carried on scoring, especially Adam Marriott, who, because his name starts with an A, is well in double figures. Marriott is now top scorer across the whole of Step 2 with 19 goals. That's nearly as many as our entire total of League goals scored this season. Mr Marriott is 28 with an average of a goal every other game in his 300 appearances for his 8 clubs. Big bloke Michael Gash has largely turned provider, with a mere 6 goals to his name this term. Inevitably he still scored against us. What also helped Lynn was finding quality replacements for their full backs who both moved into the Football League. Summer signing Nathan Fox is every bit an awkward opponent as his predecessor, though doesn't fall over quite so much.
Hard to imagine that any of our supporters will be visiting Lynn for the first time so my description is very brief. The Walks is close to being one of the country's oldest grounds and in certain areas, looks it full 140 years old. The vintage 1956 grandstand has 1100+ seats behind one touchline with a huge covered terrace on the opposite side. There are open terraces behind the goals. Given the mutual enmity between the clubs, segregation is likely so take your waterproofs.
No parking at the ground apart from blue badge holders and its very limited nearby. Town centre car park like St James Car Park in Clough Lane charge £4, requiring a walk to the Walks. It does make a pre-match town centre pint possible. The gem is the Crown and Mitre in Ferry Street. Richard Tomkins raves about this establishment, describing it as an 'olde worlde' bar with a big model of HMS Victory and an electric model of an American steam locomotive. They have 6 real ales on tap and produce home cooked food. Basic but very substantial 'pub grub' with generous portions. Expect a 15-minute walk to the Walks from here.
BY ROAD: A very long 350 miles return (PE30 5PB) via A14, A605, A47. Those last miles through slow-moving country roads are the toughest part. Who'd set up a football club in such a rural location?
BY RAIL: Hopeless from the Shire. A straight two hour run from London Kings Cross. Station is only a 5-minute walk from the club, straight across the park (King's Lynn Walks).