Southport FC
The Non-League Paper is clear, "last years' squad was bloated, overpaid and undermotivated." Such was Southport FC during 18-19. But even so, they managed to beat Hereford home and away in matches best forgotten.
The Sandgrounders' near platoon strength of 26 players is now down to 19 lean men including three loanees and one unattached person. There is a decent amount of continuity as excluding the temporary trio, only 3 newbies joined over the summer. Arguably, Port are weaker for having lost their two best known goal scorers. Forward Jack Sampson does remain, having scored 13 during last season. To which they've kept Angolan striker Raul Correia and bought in Mike Newell's son George as back up striker on non-contract terms. Top scorers so far are midfielder David Morgan with 4 and Correia with 3 which reflects their poor League scoring record. They have yet to score in the last ten minutes of a League match.
Supposed main striker Sampson hasn't yet outscored Mike McGrath of Kettering who put through his own net for Southport. They've failed to score in about half of their League games. One familiar name is goalkeeper Dan Hanford, who managed 12 games for the Bulls between 2011-13. He played every game last season, a rare bit of continuity at the seaside club. Hanford was their first ever-present for 8 seasons.
Their home record looks reasonable.
Beat Guiseley, Blyth, Altrincham and Brackley
Drew with Curzon and Kettering
Lost to Telford
In theory, manager Liam Watson provides stability as he celebrated 500 games in charge against Brackley. Yet his first spell ended when the club turned full-time in 2005. He and most of the squad left. He returned in 2008 and stayed for 5 years before resigning again. Back he came in 2016 but as a Board member. After several more managers came and went, Watson was persuaded back into the dugout in May 2018.
Over the last 13 seasons, only twice did a manager last the full nine months at what was used to be Haig Avenue. That was Liam Watson. Both times. "To move a club forward, stability and patience is vital" said club owner Phil Hodkinson last season. Ironically, he resigned in the summer to take over Huddersfield Town and then sacked the Terriers manager weeks later. All very stable. Manager Liam Watson's background is in psychology so that and working as a fitness instructor in a high security hospital is very useful at Southport. Watson is back on the latest incarnation of the Southport Board. Twelve directors have resigned since 2017 in this most turbulent of clubs. Latest owner is Ian Kyle, a solicitor who owns the majority of shares.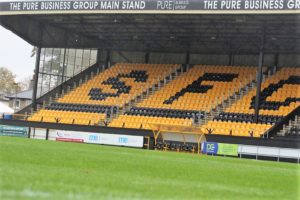 Capacity of the now re-re-named The Pure Stadium is a very large 6,000 including 1,800 seats in the refurbished main stand. Their biggest League attendance in the last 30 years was barely half that. This season they are averaging around 950, some 10% down on last year. With no Stockport or FC United in the League, attendances are unlikely to rise significantly.
Southport FC always segregate so we will have the re-named Willow Catering terrace with room for over 1,000 plus 300 seats. That's a lot of room for a small midweek following. Terrace admission is £13.50 for adults, seniors over 65 £10, for Juniors aged 12-18 it's a fiver and children under 12 are free. Stand admission cost a pound or two more. Like ourselves, the turnstiles are cashless. You can queue in the club shop on the day to buy tickets or pre-order online at 10% off the turnstile prices. The club insists downloading the tickets to your smartphone takes only two minutes.
The club bar, the 1881 Lounge, is open five days of the week, hoping to cash in on their BT and Sky coverage on big screens. Look out for their own real ale "Grandstand Gold", prepared by a local microbrewer. The town centre is a mile away so the best refreshment alternative is the nearby (and capacious) Thatch and Thistle on Norwood Road. Two real ales on offer (Old Speckled Hen and London Pride) though are possibly secondary to serving meals. The Joe Holts pub, The Richmond, in Scarisbrook New Road (handy for the car park) is another option. Not surprisingly, the full range of Holts beer is on sale. There's an extensive food menu for the peckish. And yes, there is a Wetherspoons in the town centre.
No club car park so the choice are local streets (some have restrictions) or use KGV College's car park five minutes away in Scarisbrick New Road (£2). Blue badge holders should email Secretary@SouthportFC.net and the club will find space near the ground.
Getting There
By Road:   278 miles return. (PR8 6JZ but avoiding Ormskirk route) Leave M6 at J21A joining the M62 towards Liverpool. Leave M62 at J6 to join M57. At end of M57, take A5758 to Southport. Follow the Formby Bypass, through Ainsdale and right into Carr Lane (the ground is signposted). At the top of Carr Lane, follow the road round to the left and go straight ahead. At a big roundabout at Kew, take first exit and ground visible across the playing fields.
By Train: Hopeless, even to London
By Minibus: Visit Hereford Awaydays Facebook page to book.