Our second home game is against AFC Telford to which my first reaction is "not again." The Bucks were in the Shire as recently as April and our visitors haven't even had the decency to significantly change their squad, Thus I have very little new to share.
The Tuesday night encounter will be the fifth between the clubs in recent years, shortly to be followed by the sixth as the two clubs Youth sides were paired together in the FA Youth Cup.
Hereford are unbeaten in the previous four, recording a FA Cup victory with draws in a friendly and both League matches. The latter games both finished 1-1, tense occasions where not much happened. Given our uncertain form at the time, we were quietly pleased with our draws. The Shropshire mob weren't happy as those dropped points from those saggy draws, ultimately that kept them out of the Play-Offs.
My main observation back in April was the only real difference between the two clubs was goal scoring. Telford scored 15-20 more than us while conceding roughly the same. Since then, they've lost their main goal threat while we have invested in a known goalscorer. Unfortunately, so have they but I'll come back to that.
Virtually all of Telford's squad signed new contracts. So mainly same old, same old opponents such as;
Captain Shane Sutton, a big tattooed hairy bloke with his own barbers' shop in Knighton now sporting a two-year Telford deal.
Vertically challenged James McQuilkin, who is Tipton's answer to Luka Modric. The Black Country mon is a former Baggie, later a Bull, now a Buck first team regular.Former Villain Ellis Deeley, brother of FA Cup Semi-Final hero Troy. That's all-round Villain as Ellis received a suspended jail sentence and Troy 3 months for affray back in 2012. The Brummie personal trainer missed the April game due to another suspension. Fortunately, sorting out a Chorley FC opponent doesn't lead to a Court appearance.
Manager Gavin Cowan and the Telford Board were very quick to re-sign their players. Their big hitters such as their demon barber and Player of the Year Ross White signed two-year deals within days of the season finishing. Cowan is building a positive name for himself as an inspiration and a motivator even though the Bucks is his first managerial gig.
Cowan is 6 foot 4, German-born and a former Telford player. Runs his own Football Academy, Crossbar Coaching, in darkest Shropshire. Cowan will host two fans forums before the season kicked off and has promised to be in the club bar until 6.00pm after every Saturday home game to talk to supporters. That is laudable and an aspiration for others Asked about expectations, Cowan played a safe bat. "I think the expectations we can have of ourselves as a football club of looking to reach mid-table and then looking from there."
Telford did lose both their main strikers in the summer including Udoh, one of the top goal scorers in NLN during 18-19. You heard it here first. I predicted in April he would be gone and off he went. to Shrewsbury Town. One third of the top 18 goal scorers last term became full-time professionals. They don't necessarily stay full-time for long but it's a footballer's dream and they have to grab it. As Jimmy Oates will confirm.
The year before last, Aaron Williams scored 23 goals for Brackley. He got a move to Harrogate as a full-time professional. Williams played over 30 games in Step One but netted 5 times. For whatever reason, Williams left Harrogate (maybe he didn't like tea rooms?) and Telford have grabbed him on a two-year deal. On paper, that sounds an alarmingly good replacement for the departed Udoh. The geography works – Aaron is a Black Country bloke whose first club was Walsall so a Shropshire club is an easy option. Telford will be his 12th club despite being only 25. Interesting back in 2014, he'd lost his way as a footballer but the Rushall Olympic manager, a certain Richard Sneekes, believed in him and worked extensively to develop Williams' talent. Williams at Rushall Missing a penalty on his debut at Kettering didn't help his credibility but he did find the net for his home debut against Kiddy. Neither Williams or any of his team mates could find the net against Gateshead, which finished goalless. Like half the League, Telford have 4 points from their opening trio of fixtures.
Telford also made two other marquee signings. They signed Adam Walker from Brackley. Although his name sounds like a child's mobility aid, Walker has the thousand-yard stare of a veteran. 28, midfielder, only 5 foot 6, with over 300 games at Step One and Two with Nuneaton and Brackley. Being another vertically challenged 'baller, he probably needs a stool to converse with his towering manager.
Their third signing Chris Lait is well known in the Black Country as he's played for both Halesowen and Stourbridge. Popular at both because he is a very quick wide man and does score key goals. Telford noticed him because Laity scored 21 goals for Tamworth last season. I checked a few videos and seems he's become a free kick expert.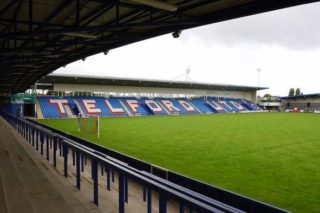 There is a wider argument that given the size of the town, the football club should be far more successful. Telford's population is 163,000 which makes it the 40th largest city or town in the UK. That's more people than in Brighton and Huddersfield, who had Premier League sides last season. Rather superficial argument of course given that Telford is a new town with thousands of incomers who already supported a club elsewhere. And the place does have a depressing Dingle infestation, due to geographic proximity to Wolverhampton. AFC Telford or Telford United have never seriously threatened to join the Football League. They're best known as a Cup team, both in the FA Trophy with 5 Final appearances and the FA Cup, famously reaching the Fifth Round one season.
For me, Telford look a decent Play-Off bet, with a settled, experienced team, impressive new men and a rising managerial star. A poor away record held them back last time. Losing at 10-man Kettering on August 4 wasn't exactly the start they envisaged. Cliché time: "they will be out to change that at Edgar Street". Does feel like a fascinating encounter.
A reminder that Talking Bull fanzine will be on sale. We have oodles of new writers and a determination to raise funds to help HUST increase our shareholding. £3 from the debonair sales team behind the main stand.