The crematorium has been part of a national metal recycling scheme since 2011, which has allowed it to donate over £80,000 (and counting) to local charities.
The Institute of Cemetery and Crematorium Management (ICCM) launched their metal recycling scheme in 2005 as a way to recycle the metal recovered from cremated remains instead of burying them. Participating crematoria are asked to nominate a local bereavement charity to be given a share of surplus monies from the recycling process each year.
The service is provided at no cost to crematoria who have signed up to the scheme and metals are not recycled without the next of kin's permission, which is sought at the time of the funeral arrangements.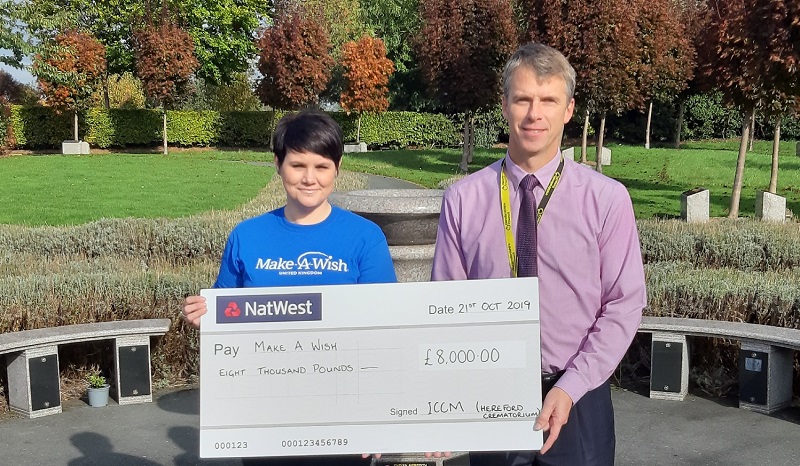 Nikki Wrench, Regional Fundraising Manager at Make-A-Wish UK, said: "This donation will allow us to grant wishes to at least three local children and their families which will be life-changing for them. Because a child's life shouldn't be about illness, hospitals and diagnosis – it should be about wonder, joy and hope.

"We've seen the effects a wish can have on a seriously ill child: from creating incredible memories, building confidence and bringing happiness, to providing respite from the daily struggles that come with a critical illness. We can only continue to make this magic happen thanks to our local communities and our supporters at Herefordshire Council, so from each and every one of us, "thank you!"
Since November 2011, this scheme has so far raised £84,000 for local charities including the ELY Memorial Fund, The Haven, Cruse Bereavement Care, St Michael's Hospice, Sands – The Born sleeping Appeal, Home Start, Phoenix Bereavement Support Services, Winstone's Wish, Rocky Lee's Little Feet and Marie Curie.
John Gibbon, Herefordshire Council Direct Services Manager,said: Thanks to the ICCM's metal recycling scheme, Hereford Crematorium has been able to generate over £80,000 for local charities, and I am delighted that the scheme continues to provide funds for so many great causes. None of this would be possible were it not for the incredible kindness of those who have made the decision that their loved one's last gesture should be one of generosity and benevolence towards others.

"It is a pleasure to present this cheque for £8,000 to Make-A-Wish, and it is my hope that everybody who has contributed to the scheme will take pride and comfort from helping to make wishes come true for children with critical illnesses."
We accept nominations all year round, so if you would like to put your charity forward for consideration, please email Hereford Crematorium at bereavement@herefordshire.gov.uk or telephone 01432 383200.
A charity must be death related and would ideally, but not exclusively, be local to Herefordshire and not have been nominated within the previous three years.